EBB's Speed Shop

<--Collectible Cars for sale on these pages!
Welcome to EBB's Speed Shop! "EBB" is an acronym of Ed, Bob and Brian, three United Telephone employees who met in the 70's in Newton, Iowa.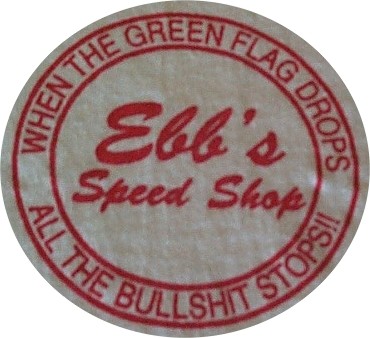 Our Logo, available on T-shirts orderable from this site.
(Currently out of stock)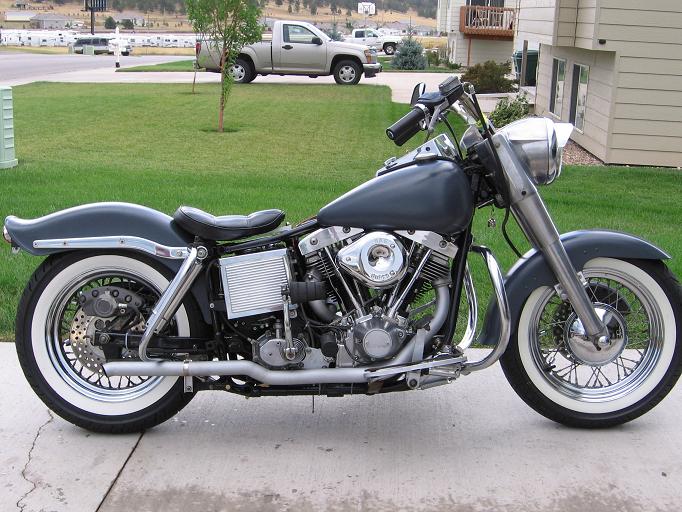 Bob's 1976 FLH, now with a 93" S&S motor. True dual exhaust, engine assembly and that wonderful epoxy primer all done by EBB's Kansas City shop. All S&S engine parts bought through Klock Werks (see info below) in Mitchell, SD.
For any additional information on these cars for sale please contact me by clicking here:
Ebb's Speed Shop
Klock Werks
, home of the world's fastest bagger! Check these guys (and gals) out. Brian Klock was my neighbor in Emery, SD many years ago, now he's a highly respected bike builder who's doing all kinds of neat stuff, including a recent win on the Discovery Channel's Biker Buildoff! Then they took the buildoff bike to the salt flats where Laura rode the bike to a new class record of 147.359 MPH
This space intentionally left blank for future info....
A little more history. After living in Newton for a few years, Ed, Bob and Brian moved to different parts of the Midwest in the late 70's, Ed to eastern Iowa, Bob to Kansas City and Brian is just north of Minneapolis. Ed is currently rebuilding the 68 Chevelle, with the intent of participating in the Hot Rod Power Tour coming up in June of 2007. Bob is putting up a shed for additional storage, as the Harley, a 1937 Buick, a 1940 Cadillac, a 1956 New Yorker, and a 1964 Dodge are taking up all the space in the shop, leaving him little room to work. Brian has recently lifted the body off the frame on his big-block 1970 Monte Carlo, with the intent of making it all new and shiny. His cruiser is a 1950 Chevrolet Fastback, powered by a 302-inch GMC in-line six, with some go-fast goodies inside. He also has a couple of oldies in the barn awaiting his touch.